Tin tức
Saigon Technology is awarded Cerfitication of Excellence in IT Development Outsourcing, by Vietnam Software Association in May 2019.
28/05/2019
Vietnam is one of the countries that is really committed to support and motivate software development companies.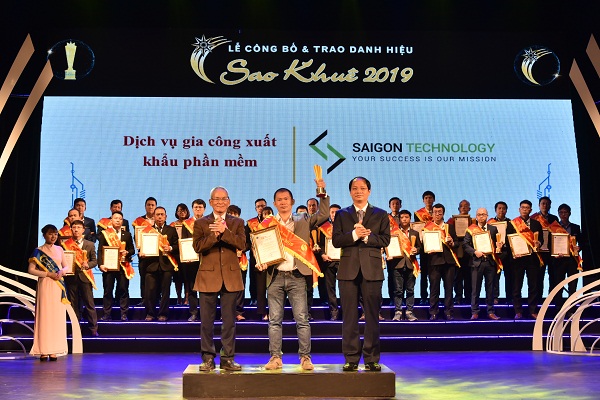 Sao Khue is the most important awards for Top IT Development Companies in Vietnam.
VINASA (Viet Nam Association for Software and IT Services) are proud organizers of Sao Khue, the biggest award of Vietnam Software Industry. This ceremony allows software developers in Vietnam to showcase some of their excellent innovations. Why Sao Khue AwardsVietnam appreciates the need for technological advancement in its various sectors. It is dedicated to ensuring it offers a conducive environment for enterprises, businesses, developers and investors to operate in. As a result, it initiated the Sao Khue awards. The Sao Khue awards are supposed to achieve the following:
Vietnam believes in the need for continuous innovations. Through innovation, new and efficient methods of undertaking various tasks are developed. These methods are crucial to economic growth. This is the whole point of Sao Khue awards, to promote and inspire innovations.
VINASA is committed to recognizing and awarding those enterprises, businesses, innovators, and investors that are going an extra mile in their ventures. The Sao Khue Awards serves as tokens of appreciation.
· Inspire future innovators and developers
The Sao Khue awards act as an inspiration to future software developers. Vietnam wants to get a lot of its citizens attracted to the field of ICT. This is an initiative that will help spur technology development and economic growth in Vietnam. For the country to reach such great heights, it has to inspire future developers.
· Celebrate advancement of technology
The Sao Khue awards ceremony provides time and platform for VINASA to appreciate how far it has come in terms of technology advancement. Top performers in the sector of ICT are singled out and awarded. VINASA takes time to appreciate the various milestones that have been achieved in ICT.
Sao Khue Awards previous winners
Ever since this competition was launched it has attracted a lot of competitors. It has seen a number of top performers awarded. Usually, there is a serious assessment that is done on the selected participants. Some of the factors considered include efficiency, popularity, competitiveness and excellent quality. Winners need to have fulfilled those significant factors. It is true to say that the Sao Khue awards only go to the best. The Sao Khue awards ceremony has been home to some notable winners in the following categories:
· Artificial Intelligence
· Robotic Process Automation
The winners in such categories were awarded for their continuous efforts to enhance digital conversion procedure in organizations and enterprises. This is where a company like Saigon Technology comes in. It was among the many winners that were awarded the Sao Khue Award.
Besides, Saigon Technology also received the Top IT Development Outsourcing Prize.
This is as a result of its great commitment to providing excellent Information Technology services in mobile and web technologies.
Besides the Sao Khue award, there are also other awards, top performers are awarded. These awards include services and products from VTC Telecommunications JSC, FPT Software, TIMA Group, ITSOL Company, Vietnam Posts, and Telecommunications, ISOFH Company and Viettel Telecom and Information Technology Solution Centre. These awards are given to help promote the culture of innovations in Vietnam. Fortunately, the initiative has really paid off in a fine fashion. Most enterprises are embracing technology advancement and innovations. This has helped in Vietnam's economic growth.
The culture of innovation is very significant to any country that wants to grow its economy. Innovation provides reliable and efficient ways to execute any task at hand. This is why more enterprise, businesses, and organizations are investing heavily to promote innovations. Countries have not been left behind in this quest to promote innovation. For instance, a country like Vietnam organizes events meant to appreciate top performers in innovation. The Sao Khue awards ceremony has become a ceremony that innovators in Vietnam want to be part of. This ceremony provides a great platform for them to showcase their products and services. VINASA is an organization in Vietnam that has remained committed to holding this Sao Khue award ceremony. It has really helped spur innovation in Vietnam.
As one of the leading software outsourcing companies that is awarded Sao Khue Awards, Saigon Technology is motivated to develop faster and more sustainable to serve growing startups and enterprises in the world.
Các tin khác
Tin tức
Doanh nghiệp Matching
Link liên kết
Số người truy cập: